Skip Navigation
Website Accessibility
Inventory Blowout Sale from UnBiasedFabrics; Vol 2015-18

May 20, 2015, Volume 2015-18
Join us for the last half of the 5 day Inventory Blowout Sale!
We've been adding fabrics to the lowest priced categories, so be sure to check them out!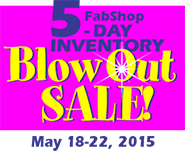 You are receiving this email because you have signed up at an event, purchased from the website, or purchased from one of our Etsy stores (UnBiasedFabrics or OakHillFabrics). Stay signed up to receive news of events and sales.
Click to visit Unbiased Fabrics!
UnBiased Fabrics is a web-based fabric shop located in Vancouver, WA and Brookhaven, MS