Skip Navigation
Website Accessibility
Row by Row; 2018-007
www.GardensongFabrics.com
June 12, 2018, Volume 2018-007
Sweet Tweet Class



Select the diamond or hexagon layout for this colorful quilt.
Details available here.
Two 3 hour sessions, offered on Wednesday or Saturday.
Classes begin June 20th and 23rd.
Class is $20, quilt kit is extra.
Click to sign-up here.


---
A few of the many new fabrics this month -
"Maplewood Gradations Ombres" by Northcott are just stunning in the depth and color interest they provide. Pick one to use as a backdrop for gorgeous appliques or cut into blocks for a beautifully coordinated look.
"Let's Build", by Henry Glass features two panels to jumpstart quilts for your construction crews. There are plenty of coordinating prints to build a fun quilt.

---
New website area -
PANELS!
We've finally reached critical mass on panels so they just had to have a home of their own. We'll be going back and adding them all to this new section over the next few days, but here's a preview of this new section.
---
Row by Row
"Dueling Pianos"
blends well with other rows and can be used
in a horizontal or vertical orientation.

Patterns will be available beginning Thursday, June 21st.
Per the Row by Row rules,
only one pattern per person and
you must visit the shop to receive the free pattern.
No phone calls, no web orders, no "picking one up for a friend".
Kits will be available for $3.95 in the shop
Free pattern offer will expire Tuesday, September 4, 2018
---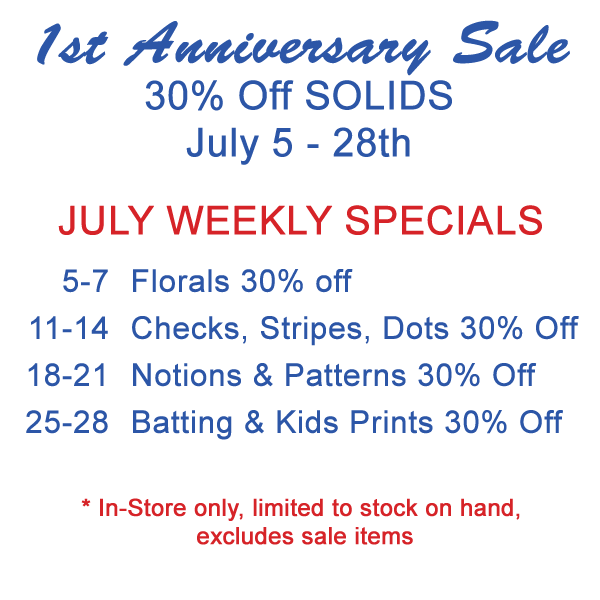 We will be closed Wednesday, July 4th
We will be closed Wednesday, July 4th
---
Thank you for supporting our family business!
Rebecca and Vivian, Owners Gardensong Fabrics
Stay signed up to receive news of new products, events, and sales.
If you wish to unsubscribe, please click on the "Manage Subscription" link below.

Click to visit Gardensong Fabrics!
Gardensong Fabrics is a retail and online fabric shop located in Brookhaven, MS